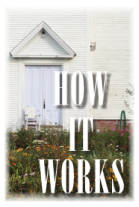 HOW (ASD)ACTIVE SOIL
DEPRESSURIZATION WORKS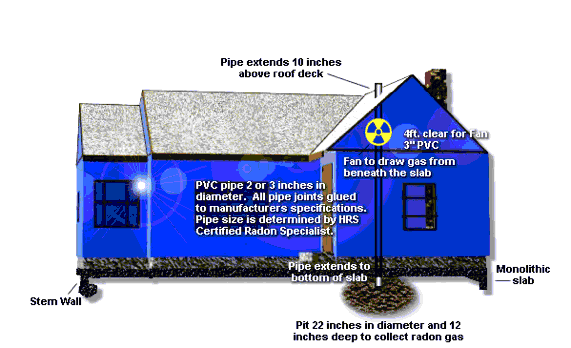 An ASD system effectively prevents radon entry into a home by controlling the pressure differential that drives soil gas from beneath the home to the interior of the home. Radon is drawn from beneath the slab by a radon exhaust fan and the radon gas vents to the outdoor air above the home where it quickly dilutes. The radon exhaust fan does not interfere with the heating and air conditioning of the home, so you are protected when the air is turned off and the windows are closed. This system also removes moisture and other pollutants that can enter the home through the slab so that it improves the overall indoor air quality. Utility cost to operate one fan is low, it uses the same amount of electricity as a 100 watt light bulb. Very little noise is associated with an ASD system if properly installed. System failure is detected by a pressure sensing device.This device will be located visible to the homeowner. The pressure gauge will only indicate if the system is functioning and not the indoor radon level. We recommend testing at least once every two years. The only maintenance with an ASD system is to read the pressure gauge to make sure your ASD system is functioning properly.
What is Radon Radon Removal Radon Reduction Radon gas mitigation Radon Pictures Radon mitigation contractors specializing in design and installation of high quality effective radon reduction systems Radon Abatement Radon gas repair in Florida.Florida State DOH Certified Radon Mitigation Specialist. US EPA / NEHA Radon mitigation contractor, Certified Radon Mitigation Service Provider. Radon testing and measurement in Florida real estate transactions Radon detectors Realtors and Owners call us first. US EPA Radon testing company IAQ and indoor air quality radon risk testing.Radon reduction. Links to the US EPA radon home page and Florida DOH radon home page.Consultant for large radon mitigation projects available.Serving all of Florida. 1-800-344-3746